Forklift trucks are industrial trucks that take up the task of lifting and transporting loads at the worksite. They are powerful machines and hence each operator should be extremely careful while operating them. So if you are a forklift operator or aspire to become one, here is a list of safety guidelines that you must observe while obtaining a forklift license or handling a forklift truck.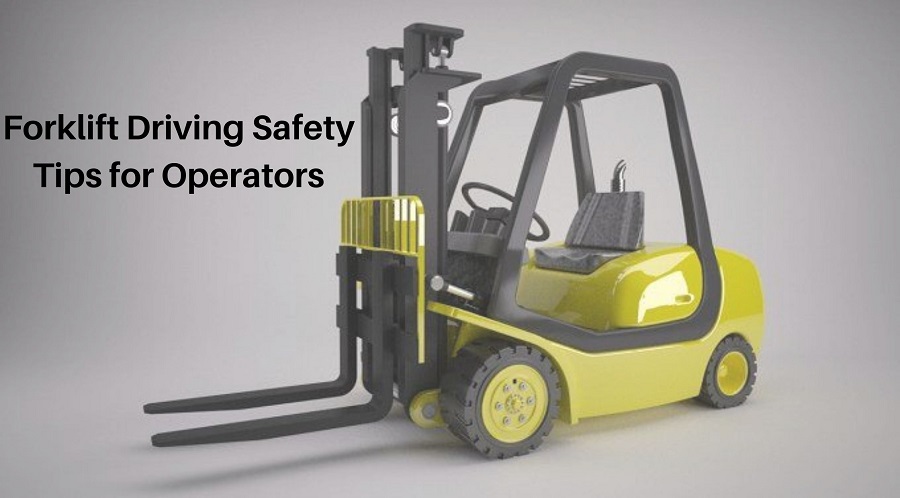 Get Trained
The first step for anyone that aspires to be a forklift operator is to go through an intensive forklift license training to learn forklift operations. Leading driving schools such as Sprint Driving offer forklift operator training classes that provide formal training in forklift operations.
Dress Suitably
The clothes you wear while operating a forklift also plays a crucial role in ensuring your safety. Ensure that you are wearing your high-visibility jacket, a hard hat and safety shoes on the job at all times.
Know Your Forklift
There are different types of fork lifts and you must know the different classes and classifications of forklifts. This is because each truck has its specifications for weight limits, turning radius, travelling speed, etc. If you have a clear understand of the difference in operations of each type, you will be able to handle the truck better. If you are not sure about these types, you can enroll in a forklift operator training run by leading driving schools such as Sprint Driving.
Inspect Your Equipment Regularly
As a forklift operator, you must inspect your equipment before every use. From the brakes and steering wheel to the condition of the forks, you must undertake a thorough inspection in the presence of the shift supervisor to avoid mishaps. With a formal forklift operator training in forklift operations from Sprint Driving, you will know exactly what to check before each operation.
Maintain a Clear Vision of the Route
One of the challenges that forklift operators face are the obstruction in vision that the load creates. A responsible forklift operator will always maintain 360 visibility to avoid accidents. Keep the forks low when not operational. In case, your load is obstructing your view, operate the truck in reverse. Do ensure that you maintain eye-contact with pedestrians, check your rear view mirrors, keep an eye on the direction of travel and use headlights if working outdoors at night to stay safe. You will learn more about this through a formal forklift operator training programme.
Floor Marking Systems
Areas for forklift operations are usually marked out to prevent pedestrians away from forklift paths. As a forklift operator, follow the floor marking system to steer clear from accident prone areas. Floor marking systems have been implemented to ensure safety of forklift workers and lead forklift through safe routes.
Avoid Excess Loads
Understand the capacity of your equipment and avoid taking on excess loads. Loading your truck beyond the specified weight capacity can make your truck capsize and lead to accidents. A forklift license training will help you understand this better!
Do Not Carry Extra People
Every equipment comes with a specified weight capacity. So if your truck does not have extra seating, do not carry people in your truck. Also, do not use your forklift to hoist people. If at all you need to hoist a person up, use only a secure work platform that has a cage to protect the other person.
Ensure Your Forklift is Stable
The forklift's stability is critical from a safety perspective. Before you start operating the truck, sit down carefully and securely. Next, ensure that your forklift is stable and compliant with the stability triangle. The stability of your truck depends on the centre of gravity, so ensure meeting the stability triangle requirements before you start operating. A hands-on forklift operator training will help you understand this concept in detail!
Do Not Overspeed
Your job as a forklift operator requires you to maintain speed limits to ensure your safety and that of the load and the truck. Avoid sharp turns and movements and if you feel your forklift dipping, stay inside the vehicle, gripping the wheel and bracing your feet.
Maintaining safe operation distance and avoiding hazardous areas are a few other things that you need to keep in mind while operating a forklift. You can learn about these safety measures by enrolling for a forklift operator training session with Sprint Driving – the one-stop destination for driving lessons in Toronto!
Reach Out to Forklift Operation License
Sprint Driving is the one of the top driving schools in Toronto. We provide hands-on truck driving lessons and conduct sessions on forklift operator training, alongside a host of other driving programmes. If you would like to take a forklift licence, you can connect with us by calling us at 416 222 4190 or writing to us [email protected]. We would be happy to help!
Also Read:

Forklift Operator Safety Training – Why is it Important?

Know Why You Should Take Driving Lessons to Operate A Forklift