A forklift is a powered industrial truck. It is one of the most widely used machines which helps to lift and move products and materials effectively over short distances. However, the operator should be well trained to manage the machine.
According to a study, most of the forklift mishaps are due to the driver's mistakes. These can be the cause of injuries, loss of life, and damage to products. Therefore, it would not be incorrect to term forklift as a dangerous machine if mishandled; which makes the safety training program even more important.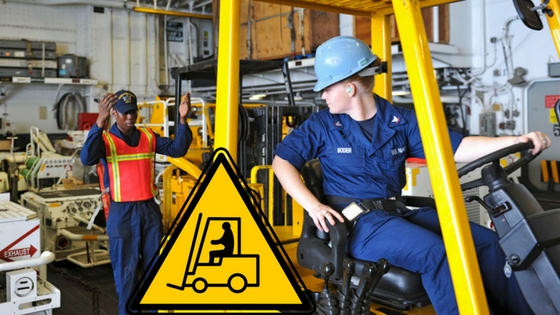 The health and safety statutes undergo countless updates every year. Hence, it can be difficult to match up with the forklift trucks and the training required to operate them.
In the basic training program, a forklift driver is taught the basic operations of a truck, such as how to use hydraulic controls, navigation, inspection procedures, and how to run a machine safely. These are extremely general instructions on how to use a forklift truck. This section is anyways covered in the first level of the training program, but most of the drivers skip higher levels which are very important. These can lead to accidents as the drivers will not know about the formal instructions related to safe use of the truck at the workplace.
During the specific job training and the basic run-through, a forklift driver must be exposed to workplace instructions. He should be acquainted with all the equipment they might have to use.
The Risk of Damages Increases If the Forklift Driver:
1. does not know well about how to operate the forklift machine
2. operates a damaged forklift machine
3. is not trained well enough to predict the movement of the machine while lifting and moving heavy loads
4. is not attentive while operating a forklift
The only way to avoid human injuries and damages to the products and property is to provide Forklift Operator Safety Training to the drivers.
The drivers get to know about the work environment and conditions is also an important part of the training. This will allow them to predict their moves with ease avoiding accidents. Live work situation training is also recommended.
Occupational Safety and Health Administration (OSHA) has set up some requirements and general facts which are to be followed while considering a driver to operate a forklift machine. They are:
1. Every operator should be trained and certified to handle the forklift
2. The training should be based on OSHA's guidelines
3. OSHA compliance training has a validity period of 3 years
4. The performance of the operator should be evaluated every 3 years
5. A complete set of documentation should be available with the employer stating that the driver has successfully completed the training
Do not take the risk of your life and others around you! Get complete training before the actual use of a forklift machine.
Should you wish to know more about the Forklift Operator Safety Training, call us NOW!
You might also want to check our related posts: