Winters can be rough and dangerous on the road, not just for you for your vehicle as well. The decreasing temperature, snow/ice on the road, fog, and other seasonal elements can cause some unavoidable problems in the vehicle. However, conditions can get worse if you lose control and presence of mind. Certain mistakes done knowingly or unknowingly during winter driving can cause harm to your vehicle as well as you. Even the most experienced DZ truck drivers can face winter driving problems.
Driving a truck in winters needs specific skill-sets especially good navigation and skid control skills. On the other hand, implementing these skill sets in poor driving conditions is also important. Moreover, drivers also need to try and work on their vehicle before winter hits. This will help you go through the season and drive safely without any hassle.
Poor visibility, bad road conditions, ice and snow, increased unpredictability, decreasing temperature, etc. are some of the most common factors which influence driving during winters. The DZ driving license holders are taught the required skill sets during these conditions, however, it is also important to use the right presence of mind.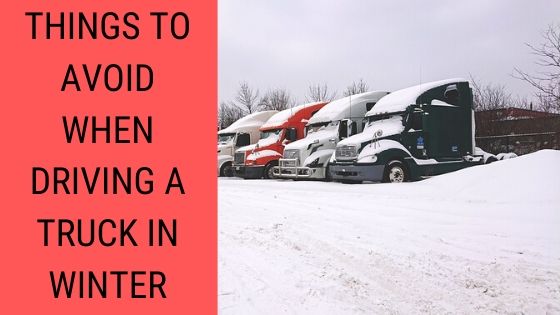 Let us check a few things to avoid when driving a truck in winters.
Avoid Long Warm-Ups For The Truck
It is a myth that a vehicle requires to be warmed-up for a while during winters. You can turn on the engine for about 30 seconds or less but not more than that. The latter can cause damage to the spark plugs, develop prodigal pollution and gas.
Avoid Driving Fast
During winters, the first rule is to slow down the speed no matter what. If you have to reach to a particular destination, plan the trip with extra time in hand. Gentle turns also ensure less chances of accidents. Slow speed in bad weather conditions gives you time to think and react to unexpected hassles on the road. Slippery roads also need extra attention. Moreover, patience and presence of mind is very much required in these conditions.
Fast driving on icy roads can cause serious trouble especially black ice because it is transparent and difficult to detect. The truck can go out of control with sudden, sharp movements and turns. Speed can cause the vehicle to skid. Therefore, it is important to drive slow and keep plenty of room between your truck and other close vehicles on the road.
Avoid Summer Tires
Winter temperature and road conditions are different than summers. Therefore, it is not recommended to use the same tires for both the seasons. The DZ truck driving school specifies these instructions. It is easy to overlook the tires when suddenly winter takes over. But do keep a check on them. The summer tires are not appropriate for the cold weather. They might lose control over the road and skid the vehicle. They aren't meant to drive on ice and snow. Brakes on such conditions can cause problems for the drivers.
Use tires that are meant to work on roads during winters especially extreme snow and ice. A little attention to the tires is important for a safe driving experience.
Avoid Missing Out On Tire Pressure Monitoring
The DZ truck training must have taught you that the tire pressure decreases with the decrease in the outside temperature. Usually, a pound of two of the tire air pressure drops every month during colder seasons. To be precise, the pressure of the tire drops 1 pound per square-inch with every 10-degree drop in the temperature. Therefore, it is important for you to keep a check on the tire pressure.
Keeping the fuel tanks full also put on extra weight on the tires to take care of friction. Moreover, good quality tires are also required for good traction leading to safe drives during winters.
Avoid The E Level Of The Gas Tank
Do not try to wait for your gas tank to reach the E-level during winters. This increases the air space in the tank which can actually moisten and freeze. On the other hand, more gas in the tank will reduce the space for air in it. Therefore, less chances of ice formation minimizing any kind of risk.
Avoid Pushing The Brakes Very Hard
During winters, it is advisable to use the brakes and accelerator slowly. Avoid sudden stops as the vehicle might skid due to the slippery conditions of the road. For some reasons, if you need to reduce the speed of your truck, press the brakes slowly reducing the chances of losing control of your vehicle.
Drive slow and safe on the ice. Moreover, avoid engaging the jake brake while driving on ice. if a trailer is attached to your truck, do not use brakes when the entire unit is not straight on the road. The trailer can skid and you can lose control.
Avoid Distractions
Be alert and keep your eye on the road. Distractions while driving on slippery conditions can lead to accidents. Watch for hard or melting snow/ice and do not avoid the weather condition alerts broadcasted on the radios or other means of communication.
Moreover, at times, you might need to take deceptive and tricky actions to avoid accidents.
It is very important to avoid these points while driving during winters. Along with these, keep your vehicle updated and ready for winter conditions. You must have learned everything in the DZ driving school, however, if you are confused, do not hesitate to ask the experts for help and guidance. In short, be prepared for the worse situations as you never know what would come your way.
The truck should be in good condition during winters. Keep a check on all the systems before you touch the road. Back up plans should be ready is any system fails while driving. Besides the emergency safety kit, also keep essentials that might be required for winter driving.
It can be treacherous to drive during winters and bad road conditions require a complete presence of mind and good judgement. And these points would surely help and guide well.
If you are looking for a DZ driving school offering extensive truck driving lessons, S&A Sprint Driving School Inc. is the right choice! We have experienced and qualified tutors to help you obtain your DZ license. For more information about our truck driving courses, please call us at 416 222 4190.
Also Read:

8 Useful Winter Driving Tips for Truck Drivers