Many sectors like various manufacturing units, warehouses, storage yards, construction sites, factories, etc. require the presence of forklift truck drivers. They help in moving materials at the work-sites maintaining the smooth running of machines. Besides this, the drivers are also responsible for loading, unloading, and storing materials with utmost safety.
The machine, a forklift driver operates, has a hydraulic lifting mechanism. It has forks kind of structures which help lift and move heavy objects. And to operate the forklift, you need an expert driver. A special certificate training course is mandatory for all forklift drivers. It seems an easy task to ride a forklift but it isn't. It needs a lot of dedication and hard work.
Particular academic qualifications are not required in order to become a forklift driver. However, a forklift training course is essential. Specialized training institutes provide these courses and certificates as well. This course is a combination of theory and practical sessions. Usually, the duration is 3-5 days. An approved forklift license from such institutes ensures that you are ready to operate the truck safely.
Besides the forklift training course from a certified institute, there are other attributes and abilities that would be highly beneficial for the forklift drivers.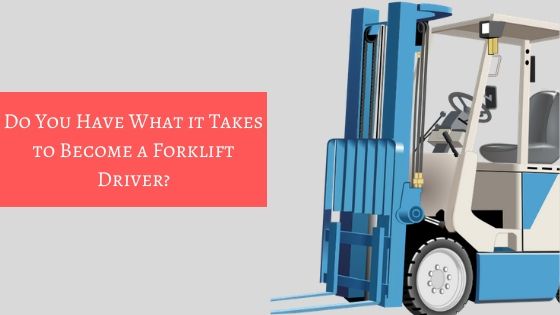 Let us check the skill sets required to become a forklift operator.
Basic Requirements
The minimum age limit of a candidate applying for a forklift driver position should be 18. Training based on the kind of work you would be taking up is important. These include handling dangerous equipment as well as toxic chemicals. Having a high school diploma is an added advantage.
Forklift training course from a reputed institute is the first step you take. Every 3 years the forklift drivers undergo the training program to keep themselves updated and aware of the safety measures. Practical training is mandatory in order to have hands-on experience in working with hazardous materials. Once you clear this test, you become a licensed forklift driver.
Further, on-the-job training is provided by the companies where you work. The kind of training may vary depending on the environment you work in and the equipment you need to handle.
Concentration & Discipline
One of the most important skills to be possessed by a forklift driver is the power of concentration. Understand, you are working in a possibly hazardous environment. If you tend to get distracted easily, then forklift driving job apparently is not meant for you. Lack of concentration at work could lead to disasters for you causing serious harm to the machine, you, and people around you.
As you would be working in probably dangerous surroundings, it is important for you to be well-disciplined. It is not wrong to follow rules and regulations, especially for places that are accident-prone zones.
The company you work with will have its own safety measures and policies which you would have to follow. Along with these policies, keep in mind the attributes you have.
Keep Calm Under High Pressure
The conditions a forklift driver has to work in are not normal and safe. Extra pressure of work, as well as safety issues would always be on his mind. Therefore, it is very important for a forklift operator to be calm under high pressure. Moreover, he should also be prepared to modify his working methodologies with immediate effect and when required.
It might happen that the daily tasks expected from you would be different but you need to maintain your calm under any sort of pressure to work safely and carefully. You should also be physically fit in order to work in extreme conditions. Many companies ask for medical fitness certificates as well. This is just to ensure that you are physically fit to carry the hazardous tasks on site.
Maths
You need not be an expert in maths, just some basic calculations would be good enough to get the job done adequately and accurately.
Calculations are required to compare the weight of the object you are supposed to carry with the machine's capacity. While considering this, you need to keep in mind the distance you need to travel with the weight. Moreover, while moving the object, you would also have to calculate the turns and steep pathways for smooth movements without damaging the object, machine, yourself, and the people around you.
Alertness
Forklift drivers need to be aware of the environment they work in. while operating machines, alertness is essential for the safety of themselves and the people around them. Moreover, this quality also helps you to react promptly in unexpected situations and accidents. At times, your alert behavior can also avoid such dangerous accidents.
You carry heavy objects, therefore, the machines you operate require constant attention. A little distraction would mean an unwanted accident. Moreover, in order to control the heavy machines, your body should be in complete coordination. Your hands and feet must work in sync to get the job done perfectly well without any hazards.
A forklift operator has to work with a lot of people on the site. Therefore, teamwork is essential to ensure hassle-free work. Moreover, as you work with teams, it is also important for you to ensure effective communication skills. This would help you avoid misunderstandings which might lead to accidents. If you wish to work as a forklift driver, besides the training, you need to cultivate these skills. The repetitive tasks can make you lose interest but you need focus and dedication. Be mentally prepared as it won't be an easy task.
The environment you work in might not be friendly or comfortable all the time. Moreover, there will be shifts around the clock. Choose this field only if you are able to handle extreme conditions.
If you want to obtain your forklift license, we can help you! We provide extensive forklift operator training, including helping you learn the safe driving techniques.
For more information about our forklift training courses, please call us at 416 222 4190.
Also Read:

Know Why You Should Take Driving Lessons to Operate A Forklift