Truck drivers in Toronto require a commercial license to drive – termed as AZ or DZ. Normal drivers who already have a G or M license in Toronto can upgrade their licenses to AZ or DZ if they wish to drive commercial vehicles. This can either be Class A or Class D license. It all depends on the type of truck you wish to drive. Here, 'A' and 'D' are designations which specify the vehicle's weight that you would probably drive. The alphabet 'Z' signifies the air brakes in the vehicle.
Qualified drivers with AZ or DZ licenses are very much in demand in Toronto. These drivers already have a Class G license which can be upgraded to A and D licenses used for commercial driving. There are driving schools in Toronto which help drivers qualify for these licenses.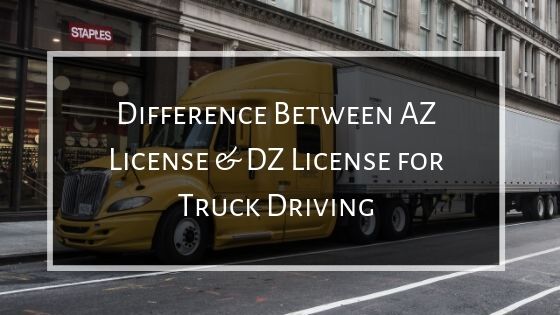 Let us Check the Basic Difference Between AZ and DZ Licenses.
An AZ license is required when you drive any truck/tractor-trailer combination, a combination of a motor vehicle and towed vehicle with air-brakes when the towed vehicle weighs over 4,600 kg (10,000lbs), or a vehicle pulling double trailers. A full Class A truck license in Toronto is the only license which takes care of full air brake systems in trucks as well as trailers.
An AZ license also permits drivers to drive vehicles covered under Class G, Class D, or restricted Class A truck licenses. However, it does not allow drivers to drive a motorcycle or a bus carrying passengers.
AZ drivers do not require to load or unload their trucks. Their profile involves both daily work and longer runs i.e. away from home for a few days maybe.
On the other hand, a DZ license is required to drive a motor vehicle with usually weighs over 11,000 kg (24,000lbs), or a combination of a vehicle with the same weight towing a trailer which is less than 4,600 kg (10,000lbs). As soon as the weight of the towing vehicle increasing more than 4,600 kg, the driver needs to have a full Class or restricted Class A license.
Drivers with DZ license can drive fire trucks, straight trucks, cement trucks, dump trucks, garbage trucks, and even rescue trucks.
In order to apply for a DZ license, a driver should hold a valid Class G license with at least 12 months of driving experience. Besides this, they need to take up the training program related to DZ driving at an accredited driving school in Toronto and clear the test to be able to drive with DZ license.
DZ drivers have physical aspects of loading and unloading their trucks in their profiles. It's a daily basis work and does not involve longer runs, unlike the AZ drivers.
For both AZ and DZ licenses, drivers need to hold a valid G or M license. And drivers with AZ license automatically qualify to drive DZ vehicles. However, both the licenses require specific training and certification. And a well-trained truck driver from an accredited training school in Toronto is always on high demand. So, what are you waiting for! Apply Now!
For more information about AZ license training or obtaining a DZ drivers' license in Toronto, get in touch with us by calling 416 222 4190. We'll be glad to help you!
Also Read:

Why is a DZ License Important in Truck Driving?