If you wish to drive a truck in Ontario, you need to have a commercial truck driving license.
There are two types of licenses – Class A and Class D. Whether you need an A Class license or a D Class will depend on the type of truck you wish to drive and this would depend on certain features:
Separate and combined weight of the truck and the towed vehicle
Whether the truck is a tractor-trailer
Whether the truck has air-brakes or not
Ontario has huge demand for qualified truck drivers who hold DZ and AZ licenses. 'A' and 'D' are basically, terms used as designations to signify the weight of the vehicle and 'Z' indicates if the vehicle has air brakes.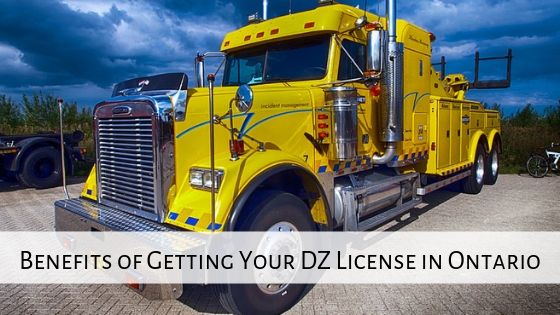 When Do You Need a DZ License?
A special training is required for DZ license. It gives basic theoretical knowledge and practical understanding of how to operate vehicles which are covered in the DZ license category. This is followed by a road test which leads to the license if the test is cleared. However, it is mandatory for a truck driver to have a G Class license before he applies for a D Class license.
The benefit of having a DZ license is that you can drive a truck with a weight of more than 11,000 kg (24,000 lbs) with air brakes or a truck of similar weight towing a trailer not weighing more than 4,600 kg (10,000 lbs). The Class of license changes as soon as the weight of the towed vehicle increases.
Other than this, a truck driver with a D Class license can also drive a car and light truck which are usually covered by a G Class license.
Other vehicles which are covered in the DZ license are dump trucks, straight trucks, garbage/recycling trucks, fire/rescue trucks, and cement trucks. However, all should have air brakes.
Adding to the benefits' list of DZ license, it is important to specify that you can upgrade the D Class to an A Class license. DZ driver's profile has physical aspects of work related to loading and unloading of trucks. It does not involve long runs, hence, they can go back home every day.
Moreover, as these drivers are always in demand, scarcity of work reduces. More and more opportunities come up for them. Obtaining a DZ license from an accredited training school gives you scope to work anywhere in Canada.
More skills get better pay! Drivers can earn more than they imagine they can. However, it is very important for you to get the license from a reputed DZ truck training school. Also, hauling different types of loads can bring in more money for experienced truck drivers such as bull haulers, vehicles moved from one place to another, airplane fuels, flatbed trucks, highly explosive gases, sod to military equipment, and many more tasks.
These truck drivers also get many benefits from the companies they work with. Independence at work is another benefit that the truck drivers feel. While on the road, you are on your own. Moreover, if you like to travel and visit new places, it is the right fit for you.
For careers in truck driving, DZ license brings in a lot of opportunities. Initially, you can get experience in delivery jobs and expand your career with your hard work and dedication. Drivers with DZ license are in high-demand in Ontario. Once, you clear the required training, you are ready to explore the road all by yourself.
At S&A Sprint Driving School, we have qualified instructors to help you obtain a DZ license through theoretical and practical training. For more information about our courses and training sessions, please call us at 416 222 4190.