Forklifts may appear to be simple-to-operate vehicles. However, they can carry heavy loads, which is why you should train and hold a forklift license before operating it. Moreover, an accident would not only put your life in danger but also that of pedestrians and bystanders. Even as the business owners make it mandatory that operators with formal forklift training are hired, there is a need for certain measures that need to be taken at the workplace to avoid any mishaps.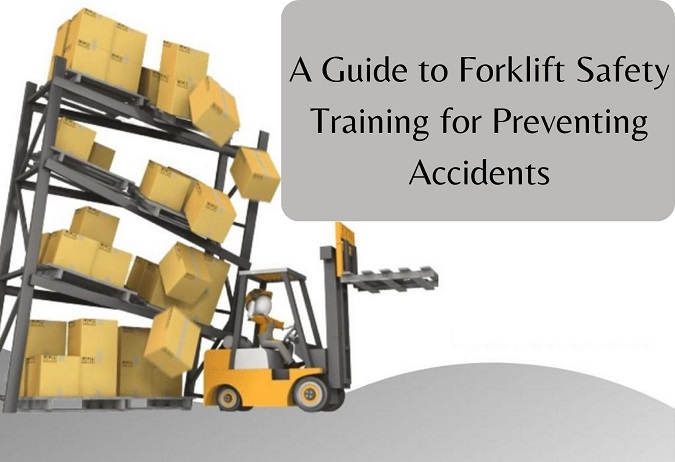 Here is a list of things that you need to make note of to prevent hazards on a forklift at the workplace.
How to Prevent Forklift Accidents at the Workplace?
Forklift accidents can be dangerous because they can injure people and damage property on the jobsite. The simplest way to prevent mishaps at the workplace as an operator is to stay alert and aware of your surroundings. A formal forklift safety training programme such as the one offered by S&A Sprint Driving School Inc can be of help to you in learning how to manage the vehicle correctly.
Check for Mechanical Faults Before Operating the Forklift
Before you start handling the machine, inspect the brakes, steering, clutch, transmission or shift linkage, mast system, hydraulic systems or transmission, safety devices, and emissions. A thorough check before operation can help you identify faults beforehand and take steps to prevent a mishap.
Consider the Load Quality and Quality
An important aspect that you need to consider as an operator before getting on to a forklift is to ensure that it is well-balanced. Check if the pallets are stacked in order and look for any damaged parts that could cause disbalance. Avoid heavy and unstable loads. Ensure that the stacked load does not block your vision.
Look for leading driving schools in Canada to enroll in a training program and learn the essentials of loading and unloading a forklift.
Look Out for Pedestrians
Ensuring the safety of pedestrians is an equally important responsibility that you must take up as a forklift operator. Ensure that there is adequate distance between your vehicle and the passers-by. Be sure to restrict them in the area where forklifts are operating. Stay within the designated speed limits and wear high visibility clothing.
Use PPE at the Worksite
Wear Personal Protective Gear (PPE) at the worksite and use hard hats and reflective gear for your safety. Remember to wear the seatbelt while handling the machine. In case, it is not working, notify your employer and have them replaced.
You can learn more about best practices of vehicle operation by taking a formal forklift safety training course offered by a top driving school.
Park at Designated Spaces
Ensure that all forklifts are parked in their designated spaces once you are done with the day's work. Also, make sure that the e-brake of the lift is set, even if you are not parking it on an incline.
Come, Train with Us for Your Forklift License in Canada!
S&A Sprint Driving School Inc. is a leading driving school in Canada offering complete forklift training from qualified and experienced instructors. We will ensure you learn the essentials of the machine to become an excellent operator.
To learn more about our forklift safety training and driving lessons in Toronto, you can connect with us by calling 416 222 4190 or writing to us at [email protected]!