Canadians with boating license enjoy a great day at the lake or by the sea in their boats. It gives a great sense of joy to spend a day on your boat with friends and family. But a joyful day can easily turn into a dreadful one if you are not being cautious and following the safety tips.
Sprint Driving is here to give the safety tips that you need to keep in mind while boating.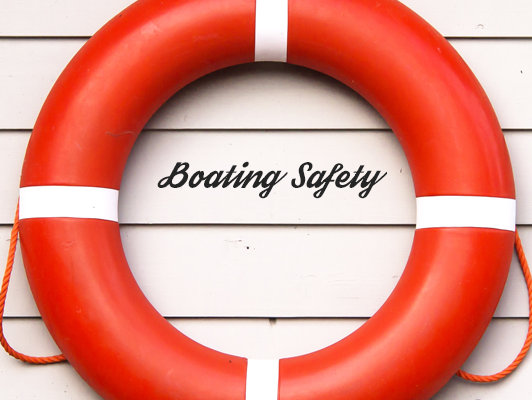 1. Essentials That You Must Have On-board
Emergencies can never be predicted thus you need to always be prepared for unfamiliar situations. We have prepared a list of things you need to have on-board, irrespective of the size of the boat.
Duct Tape: You can temporarily bandage a hole in the boat with that.
First Aid Kit: This is the most vital thing you should have on board. A first aid kit should be fully equipped to tackle a medical emergency tactfully.
Whistle: To call for help in the waters, you need to have a whistle. A whistle acts as a signal for help, while you are boating.
Flashlight: A flashlight is of great help when you are boating in the dark. It helps you to locate other boats while checking your systems for fuel.
Fire Extinguisher: Being on waters cannot keep you safe from running into the possibility of fire. A fire extinguisher can help to extinguish the onboard fire.
Life Jackets: You should have a government approved life jackets on board to save yours as well as your passengers' lives.
Garbage Bags: Weather can change any moment. Garbage bags can easily be turned into raincoats, in case of emergency.
2. Wearing Life Jackets
Life jackets are made for more than just to keep you afloat. They are carefully designed to keep an unconscious person, face-up. It also helps to avert hypothermia. All boats should have a life-jacket.
Note: Choose a life jacket that is made for your weight and height.
3. Be Updated With Weather Forecast
A sunny, warm day can sometimes be carrying a storm. You need to check out the weather forecast before you commence your boating. While boating, always watch out for the signs of a storm such as choppy water, varying gusts of wind and like.
4. Do Not Overload
Every boat has its own capacity. Be certain with the capacity and do not overload your boat with many equipment or passengers. This can cause an imbalance in your craft.
5. Keep Checking On Fumes
When you are done refueling the boat, try to smell for fumes in all hatches. If you can smell the fume, do not try to start the engine.
These fumes have carbon monoxide which can knock you and your guests unconscious. The places were you can commonly detect the accumulated gases or fumes are:
Less Ventilated Areas
Blocked Exhaust outlets
When your engine is running at a low speed, or is idle or stopped
Enclosed spaces
6. Be Attentive While Undocking and Docking
Be aware of the traffic in close proximity and the wind direction. Docking and undocking can be a challenge. While docking, ascertain your bumpers are out. This can help you to reduce your speed while securing your docking lines.
7. Use Common Sense
Rules of the water are same as the rules we follow on the road. Use common sense while being alert throughout the time you are on your boat. Ensure that the passengers are always safe and inward on the boat's railings.
8. Adhere to Anchoring Procedures
Only one anchor is not enough. You need to have:
A. Two Anchors In V-Formation: Need to have them at the front to help your craft from drifting away.
B. Dropping Skills: Drop your anchor about 20 or 30 feet deep to keep your anchor at a place without the tide moving it.
9. Take A Boat Safety Course
Majority of the boat accidents happen due to the error on the end of the operator. Keep in mind the rules and regulations that you have learned in your boating license course.
Sprint Driving has complete 149 pointer material to prepare you for your test to acquire a boat license in Canada. We are always delighted to guide you.
10. Regularly Check Your Boat
Just like you have a regular check of your car, you need to have a regular maintenance check of your boat.
Want to Acquire A Boating License in Ontario?
Contact Sprint Driving, to acquire a boat license swiftly in one go. We offer courses materials that can easily get your through in your first attempt.